V-Rock Single Lead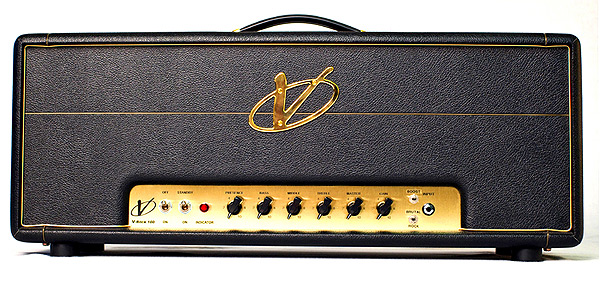 "The sound of hard rock guitar was defined in the 1980s by highly-modified Marshall™ amps. The V-Rock™ was designed to faithfully replicate the guitar tones of the 80s from such tones as Sykes, Lynch, DiMartini, EVH as well as many other legendary players! Effortless pinch harmonics (ala Zakk), endless liquid like sustain, deep / rich bottom end & 100% pure tone! This is a Jose Arredondo inspired amp and is 100% pure hot-rodded tone at it's finest!"
DESCRIPTION
Hand crafted, built & assembled in the USA
100% hand wired (no printed circuit boards)
Mercury Magnetics Custom Transformers
1-Channel Design
Preamp Tubes: 3=12AX7's
Power Tube: EL34 Svetlana (other power tube options are available)
Custom options! Tolex & Grill Cloth
FRONT PANEL
Gain (preamp)
Master Volume
EQ: Bass, Mids, Treble & Presence
1/4" Heavy Duty Input Jack
Indicator light
REAR PANEL
Speaker Outputs: 2 - Heavy duty 1/4" jacks
4, 8 & 16 ohm impedance selector
Mains & HT Fuse Holders
Detachable 3-prong power cord (IEC connector)
ADDITIONAL SPECS / FEATURES
All components and parts are chosen for tone, feel and long term reliability
Customer Mercury Magnetics Transformers
V50/50 8FT IEC Power Cable
Teflon wire - Aerospace grade
Aluminum Chassis with welded corners
Rugged Handle
Warranty
DIMENTIONS
L = 8.25"
W = 29"
H = 10.75"
H = w/Feet = 11.75"
FACTORY UPGRADES
SERIES FX-LOOPS 3 to choose from!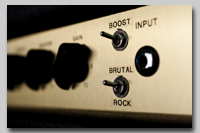 "ROCK / BRUTAL MOD" (280,- EUR)
As used by Doug Aldrich of Whitesnake
Rock Mode = 3 gain-stages (stock V-Rock)
Brutal Mode = 4 gain-stages (High Gain V-Rock)
"Boost" switch - Gain boost for Brutal Mode
Note - "Boost" switch functions in Brutal Mode only
"SOLO BOOST MASTER VOLUME" (190,- EUR)
As used by Doug Aldrich of Whitesnake
Additional "Solo" Master Volume is added
Footswitchable (1/4 mono jack)
Instantaneous footswitching
No pauses or excessive popping
Solo Master has smooth / even taper
Rugged Metal Footswitch is included
Amp retains same tone
| Model | Price |
| --- | --- |
| V-Rock 100 W | 2,950,- EUR |